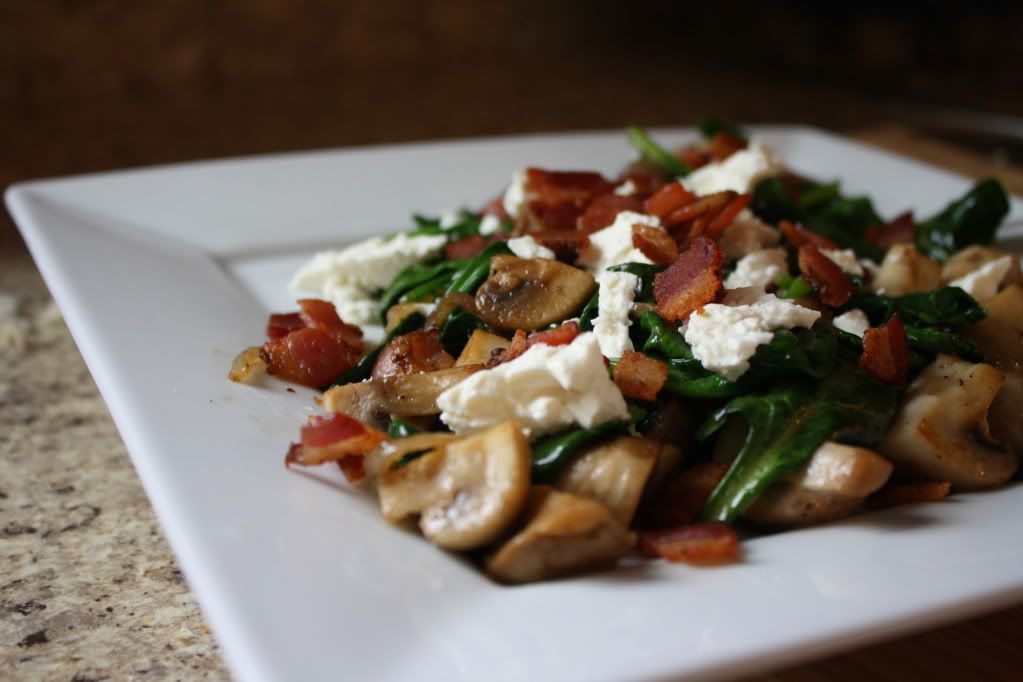 The last few months I have put my body through hell!
We have devoted every single minute to our new home which left zero time for sleep, relaxation, exercise, and eating healthy meals!
So since moving into our new place, I've decided to ( or absolutely needed to) give my body back some love! So I started off with this delicious & healthy salad! Yes..Yes..I know! It's smothered with bacon chunks...real healthy Sabrina! But the giant serving of spinach makes up for it riiiight! Let's be honest, my taste buds need some love too! annnd It's healthier than all those slices of pizza and big macs (I know...big macs...plural...horrendous!)
I hope you enjoy this yummy Warm Spinach, Mushroom & Feta salad. I enjoyed mine topped with a couple teriyaki steak tips and a poached egg!....amazing....
Warm Spinach, Mushroom & Feta Salad
recipe by Sabrina W. for eat.drink.and be merry.
serves 4 to 6
5 oz baby spinach
12 oz button mushrooms, quartered
3 slices of bacon, diced
1/3 cup crumbled feta cheese
1/2 of a medium red onion, thinly sliced
olive oil
salt & pepper
pinch of nutmeg
juice of half a lemon
Add a tiny drizzle of olive oil to a skillet over medium heat. Add in bacon and sizzle it up until it's nice and golden and crispy. Remove the bacon bits with slotted spoon reserving the bacon oil in the skillet.
Add in the mushrooms and onions and sprinkle with salt and pepper. Sauté until caramelized. Add in baby spinach and sauté until just wilted. Transfer to a serving dish.
Top with feta crumbles (TIP! - My friend Aly always buys her feta in a brick instead of already crumbled. It's wayyyy more moist and less salty and you can break it off in big fat chunks!)
Finish with a drizzle of olive oil and lemon juice.